Rowing
At Mosman we strive for the pyramid shaped structure identified as the correct model for sporting clubs to prosper, as they cater for the many and encourage the best.
The bottom of the pyramid is more heavily populated, as this is where our juniors and beginners come into the club. The middle is made up by our Masters and active members, and at the top are the elites – fewer by virtue of the difficulty of getting there.
Our active rowers include:
Senior and Elite (open category competitive rowing)

Masters (27 years and older)

Juniors (under 19 years of age)

Beginners (novices learning to row)

Recreational rowers (non-competitive rowing)
If you are interested in joining the Junior Program please call Linda on 0429 337 933
If you are interested in joining the Development Squad please call Judith on 0400 220 002
Off Season
In the off-season, MRC conducts a Winter Rowing Programme for high level school rowers, while continuing the adult Learn to Row and Rowing For Fitness classes. MRC has ongoing relationships with several schools, including:
North Sydney Girls High School

Queenwood

Loreto Kirribilli

St Augustine's

Redlands
Safe Rowing Guide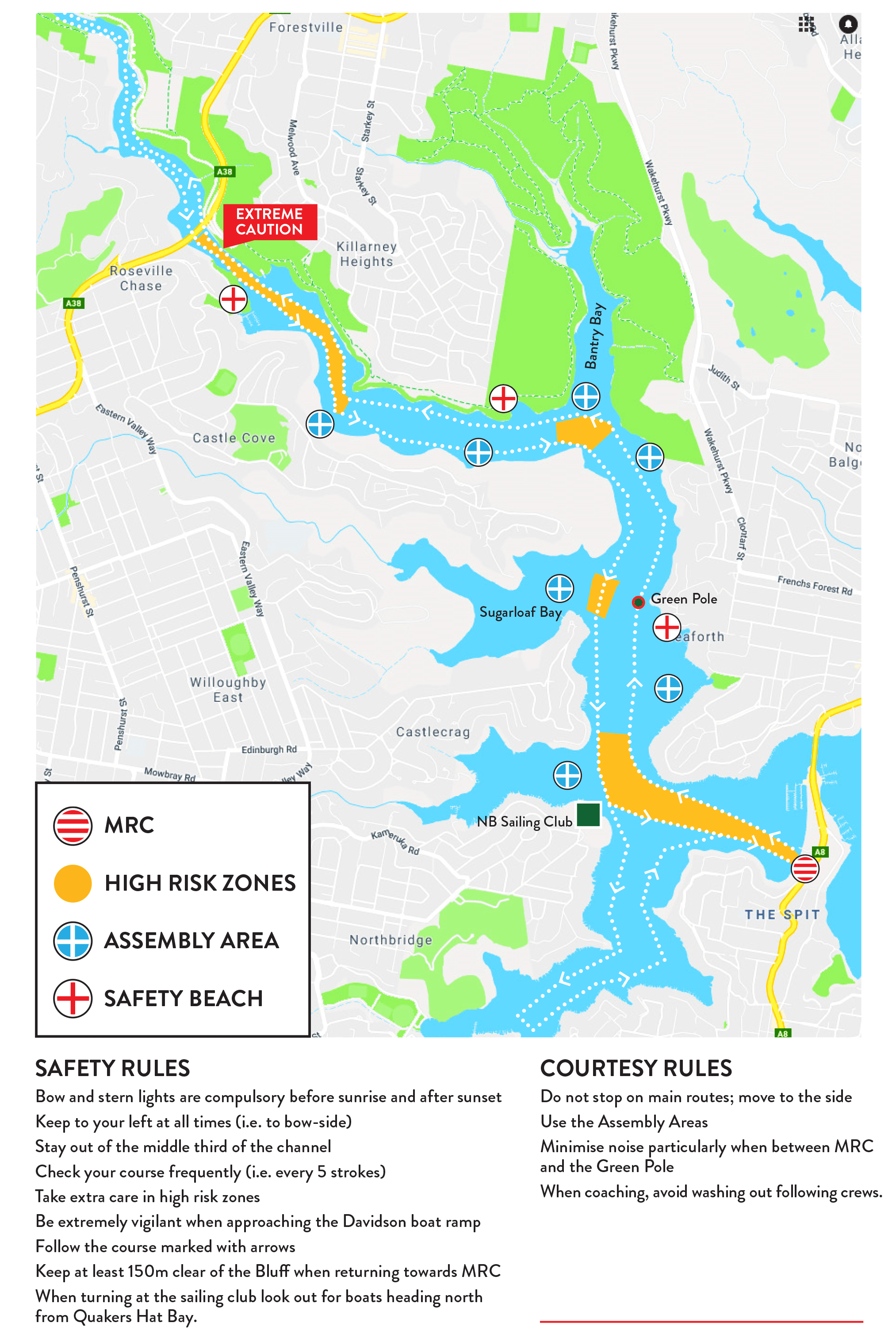 Schools rowing
Since completion of our second boatshed in 2009, the rowing programmes at Loreto Kirribilli, Queenwood, SCECGS Redlands, North Sydney Girls High School and St Augustine's have gone from strength to strength. Currently close to 300 schoolgirls and boys are based at Mosman, training either out of their school shed or in Mosman-led training programmes. Our winter rowing programme is strengthened by athletes from Riverview, Sydney Grammar, Shore, Kings and Pymble Ladies College.
NAVIGATION NOTES – LIGHTS, LOOK AND KEEP THE SHORE ON YOUR LEFT ELBOW.
LEAVE THE PONTOON AND STAY ON THE NORTH SIDE OF THE EXIT ALLEY – YOUR LEFT (BOWSIDE) AS YOU SIT IN THE BOAT. IF YOU LEAVE BEFORE SUNRISE, LIGHTS MUST BE FITTED AND VISIBLE FROM 1K. Avoid rowing mid-stream. Blue arrows on the map show main course routes and direction. Avoid collisions by checking your course frequently (about every 5 strokes). Be on high alert in High Traffic Zones and watch for turning boats. Avoid training in these zones where possible. DO NOT STOP OR CONGREGATE ON MAIN ROWING ROUTES. Use the Assembly Areas shown. MINIMISE NOISE especially in the morning. Don't shout, talk loudly or use megaphones when passing The Bluff or other residential areas. Boats leaving the pontoon should give way to those returning. Southbound boats turning for the sheds at the Sailing Club WATCH FOR BOATS DOING PIECES NORTHWARDS ON THE MAIN WATERWAY. Keep clear of boats rowing in the 5km Time Trial (see green arrows). Returning boats stay on south side of alley – again your left elbow.