March Madness, Results, Senior A Trials, Winter schools program, ANZAC Day, Wombat, Video
March Madness!
Not US college basketball, but activity at Pearl Bay!
March is a particularly busy month at Pearl Bay with the development squads and the school programs reaching the end of their season and the masters steadily increasing their training intensity with an eye on their States and Nationals in May.
So, if problems such as pontoon queues, tinny washes, near misses and boat availability arise, let's cut each other some slack.
Results from last weekend
Last weekend was an excellent one for the club at the Riverview Gold Cup, despite the rough conditions. As I reported on Sunday each of our three eights (women's D and men's D and G) won well. See a video of the MM D 8+ below.
As well, a small but strong contingent of our masters women raced at the Leichhardt Regatta on Iron Cove. Here are some of their results.
Bec Hourigan. Jane Tribe, Kristane Foxton, Sally Maspero – 1st WMD 4x
Bec Hourigan, Jane Tribe, Jenny Wilson and Wendy Miller – 2nd WMC 4x
Jane Tribe and Jenny Wilson – 2nd WMA/B 2-
Well done, Ladies! I hope that this is the first of many Iron Cove regattas over coming years where MRC is well represented. We have the talent to win the NSW club point score year after year if we go to more non-SIRC regattas. Why leave the competition to Leichhardt and St George?
Finally, last weekend, MRC member Rob Black, who has moved to Melbourne and rows for Mercantile stroked the Mercantile VIII to a win in the Men's Open VIII at the Vic. State Championships. Under an arrangement that our Director of Rowing, Matthias Ungemach, has set up Rob rows as an MRC member when competing in NSW but as a member of Mercantile in Victoria.
Senior A Trial Update
This morning Sean Murphy and Rob Black had 2km erg tests out at Penrith as part of the trials for the Senior A Australian team. I am pleased to report that both set personal bests. They now face four days of on-water trialling. Good luck to them both.
Upcoming regattas
Sunday, 19 March – Drummoyne Grade at Iron Cove
Sunday, 26 March – Drummoyne Masters at Iron Cove
Monday, 27 March to Sunday, 2 April – SIRR at SIRC
Winter program for school rowers
The club will once again run a winter development program for school boys and girls.
Last year, in the girls program there were 43 rowers and 3 coxes (15 Kirribilli, 24 Queenwood, 5 Redlands, 1 each from Monte and Newcastle). There were 18 boys (9 Shore, 5 St Augustine's, 2 Grammar and 1 each from Riverview and Redlands).
The on-line application page is here.  Please feel free to forward to families who may be interested.
Boat booking system
We have a great boat booking system which was developed by club IT expert, Mark Lewarne, with significant input from Peter Spasojevic.
If you don't have log-on access to the system or don't know who to use it please email me so that we can rectify the situation.
Sunrise and boat lights
Sunrise is currently 6.51am or thereabouts and will obviously keep getting later until the evening of Saturday, 1 April when we move off daylight saving and sunrise drops back 60 minutes (and then continues to get later until June 21).
Please ensure you have boat lights and that the batteries powering them still have plenty of juice.
Dawn Service on ANZAC Day
The club will conduct an ANZAC Day dawn service at Bantry Bay.  Linda Read and Torq Murray have all the arrangements well in hand.
This year, April 25 falls on a Tuesday so, perhaps, many people will make it into a four-day weekend but, if you expect to be in town, make sure you put an early row on Tuesday, April 25 in your diary.
More details will follow in April
Problem with street lights near the club
The street lights in the car park and also on Spit Hill have been out of order for about a week.  I don't know what the problem is and why it hasn't been fixed but I've seen some fluoro-clad workmen tinkering away. Please keep an extra lookout in the carpark for pedestrians and potholes.
Old boats
The Club has decided to dispose of three sculls (Charmaine, Trident and Lanigan) and also the Les Taylor 8+.
We are offering these boats to Club members first, of course.  They will then be offered to the broader rowing community and, if there are no takers, disposed of.
If you, or someone you know, is interested, please contact me by next Friday, March 16.
Wombat awards
To the masters single sculler who 'totalled' a borrowed private single by rowing it straight into a pole.  Special commendation to the MRC committee member who was supposed to row in a quad but failed to turn up prompting the other three, including the Wombat, to venture out in singles.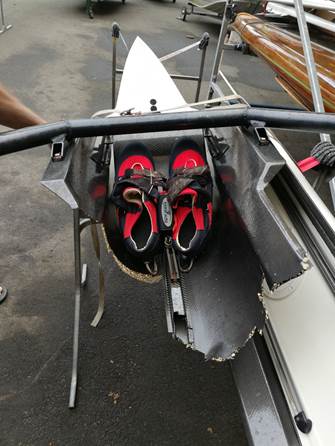 Video(s) of week
Click here for the MRC men's D masters eight finishing at Riverview last Saturday.  Best to start about 20 seconds in. This crew (or most of them as there may have been some subs last weekend) will race at state masters for selection as the NSW men's masters eight.
From bow: Mark Lewarne, Evan Sturrock, Peter Spasojevic, Paul Bartels, Lachlan Evans, James Taylor, Stuart Halsall, Andrew Hourigan, Cox: Wendy Miller
Click here for a short video of Dan Noonan and Nick Hudson (shot by Nick Garratt)
Finally, something non-rowing. Ski jump helmet-cam.  Click here